Cake Turntables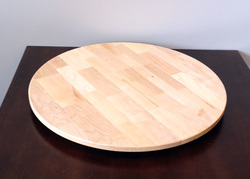 Looking for a high end solid wood turntable? Our decorators at the Crafty Cakery use DM Culinary turntables everyday for our large cakes and wedding cakes!
Enhance your cake decorating efficiency with the Maple Cake Turntable. This durable, expertly constructed, 22 inch turntable offers a smooth 360˚ rotation as natural as the planets circling the sun.
The Maple Cake Turntable creates an exceptional system for an effortlessly iced cake and its smooth finish permits an easy clean up. Whether you're decorating, frosting, displaying, or serving your skillfully designed dessert, The Maple Cake Turntable is the perfect addition to your kitchen. DM Culinary is a family owned business and made in the USA! Order yours today, click on the link below for more info!
Cherry Lazy Susans, Maple-wood Elevated Cake Turntables and Butcher-block Cutting Boards also available!
Click here:
DM Culinary
---